Whakapono – Being true to yourself/ Having integrity
Tumanako – Dreams and aspirations 
Manaakitanga – Tikanga of care for self, others and our environment
Rangatiratanga – Self identity and self ownership 
(Interpretation of our designs)
These are our 4 Pou that guide us through Kura.
The Koru on Whakapono signify how being Pono comes from within.
The Tukutuku on the bottom are called Nga Purapura Whetu – Stars Seeds – which are guidance from our Tupuna.
There are 55 which symbolise the 55 Marae in Ngapuhi.
The koru on Tumanako show the support that our tamariki need when setting goals and following their dreams. The Tukutuku pattern is the Poutama which symbolises the staircase of knowledge or the progression of higher learning.
The koru on Manaakitanga show how we turn to each other for support. We give and receive.
The Tukutuku symbolise Te Patiki – The flounder which represents hospitality.
The koru on Rangatiratanga is the symbol from the Tino Rangatiratanga flag and the Tukutuku show 10 Maunga – Te Whare Tapu o Ngapuhi.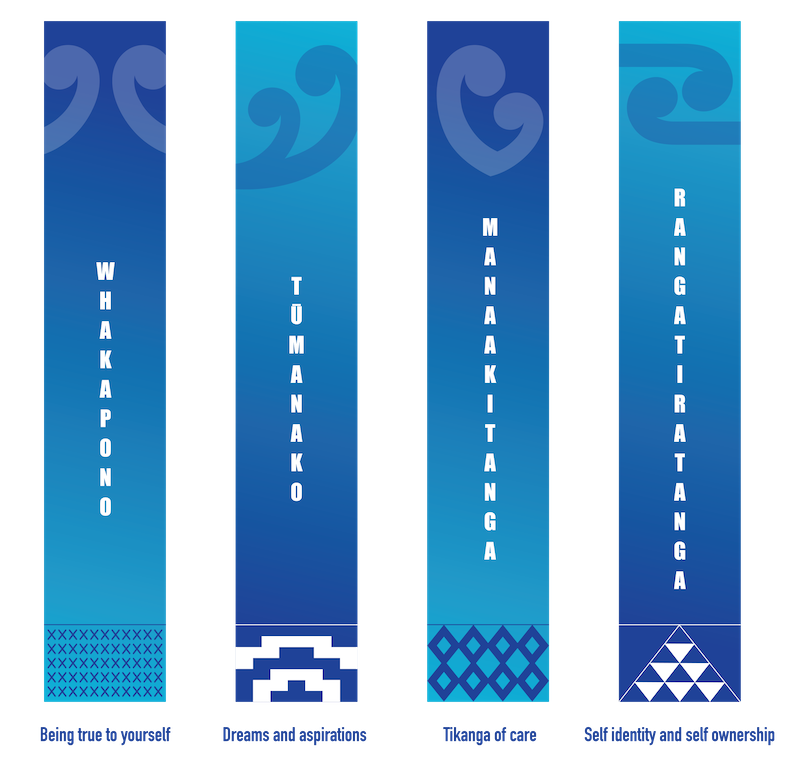 Our Kura Vision and Logo 
Tu Pono, Tu Tika, Tu Aroha, Tu Rangatira.
Stand true, Do what is right, Be kind and stand as a chief/leader.
This is our Vision that guides all our practices in our Kura everyday.
Our Logo was adapted from our original logo. It symbolises Rahiri's Kite – Manu Aute, which guides us all on our journey.
Whakapono has